Enemies To Lovers Vol 2 (Paperback)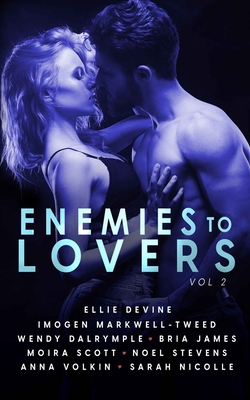 $16.99
Usually Ships in 1-2 Weeks
Description
---
Snowstruck by Ellie Devine - Ashton Scott, Hollywood's Hottest Hunk, no longer feels hot, he feels burned out. All he wants is peace and quiet But all pap Alaina Ruiz-Ortega wants is the perfect picture. When her car won't start and her phone fails to get a signal, Lainy finds herself begging for mercy from the same devastatingly attractive celeb she's been stalking. Without a camera lens between them, they might see each other clearly for the very first time.
Choking on Flowers by Imogen Markwell-Tweed - When Elle dreamed of opening her flower shop, she never imagined that the perfect storefront would be attached to a rude, sarcastic tattoo artist's shop. Jasper thinks Elle is great. A bit of a spitfire, always ready to verbally spar with him. There's a spark between them he can't deny. But with a little miscommunication, some hastily scribbled love letters, and a winter storm, the two small business owners are pushed together in ways they never could have predicted.
Too Hot by Wendy Dalrymple - Mariella is Tater Tot Queen of the Tampa Bay food truck scene. Despite her confidence, there's one vendor edging in on her territory. Damien Lopez can't help but notice that one vendor doesn't seem to welcome him to the scene. It's a real shame, she's every bit as pretty as she is mean. They compete for customers at every event in Tampa Bay, but when things start to get too hot, they order up a truce and discover something truly delicious.
Sweet Heat by Bria James - Where do you run to when the person you trusted the most is the one who betrayed you? Allegra Montague had settled into her new life ten years after leaving her fianc at the altar. When a broken-down A/C unit brings Jude Manford crashing back into her tidy life, Allegra must decide if she can trust the man who cruelly betrayed her all those years ago. Sparks fly whenever they are together but is passion enough to mend a broken heart?
Not So Neighborly by Moira Scott - Beth was perfectly content with her life as it was. At 50, she has it figured out. Except for her neighbor Sam. Ever since he retired, he has been a thorn in her side. His animals roam around their shared yard and he's always so painfully HAPPY. When an annoying client becomes a bit too interested in Beth, she enlists Sam to help her get rid of him. Will Beth allow her feelings to flourish? Or will her past put a stop to their relationship before it even starts?
A Brief Romance by Noel Stevens- There are any number of reasons why Saffie should hate the entitled, smug, and annoyingly handsome London barrister and her arch nemesis Hugh Beaufort. When Saffie is assigned to brief Hugh on a case, can she set her personal judgement aside to secure justice for her client? Will Saffie's grudge persist once she learns that Hugh is not the devil's most trusted legal advocate?
Tipsy On You by Anna Volkin - Diana, a successful MD, dislikes anything romantic. When she meets a college friend's ex at a wedding, she doesn't expect to fall so hard. He was someone she avoided, but twelve years later he is charming, witty...and hot. Despite attempting to fight their growing attraction, a revelation about the past propels Diana and Silviu together, leaving them confused and utterly in lust with each other.
His Roommate's Girl by Sarah Nicolle - One night of passion leaves Adrienne wanting more. Tyson, however, makes the biggest mistake of his life when he panics and sneaks out the next morning. He can't get her out of his mind but he didn't expect to see her months later...dating his roommate. Despite the attraction that flares whenever they are together.