Ricochet: Addicted, Book 1.5 (Paperback)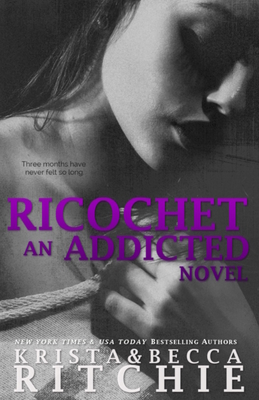 Other Books in Series
This is book number 1 in the Addicted series.
Description
---
As a sex addict, Lily Calloway must do the impossible. Stay celibate for 90 days.
Cravings and fantasies become her new routine, but while Loren Hale recovers from his alcohol addiction, Lily wonders if he'll realize what a monster she really is. After all, her sexual compulsions begin to rule her life the longer she stays faithful to him.
Progress. That's what Lily's striving for. But by trying to become closer to her family--people who aren't aware of her addiction--she creates larger obstacles. When she spends time with her youngest sister, she learns more about her than she ever imagined and senses an unsettling connection between Daisy and Ryke Meadows.
With Lily and Lo's dysfunctional relationship teetering and unbalanced, they will need to find a way to reconnect from miles apart. But the inability to "touch" proves to be one of the hardest tests on their road to recovery. Some love brushes the surface. Some love is deeper than skin.
Lily and Lo have three months to discover just how deep their love really goes.
As a companion novel, it bridges the gap between Addicted to You and Addicted for Now.
About the Author
---
Krista & Becca Ritchie are New York Times and USA Today bestselling authors and identical twins-one a science nerd, the other a comic book geek-but with their shared passion for writing, they combined their mental powers as kids and have never stopped telling stories. Now in their twenties, they write about other twenty-somethings navigating through life, college, and romance. They love superheroes, flawed characters, and soul mate love.