Thunder Thighs & Trickster Vibes: Essays on Immigration, Gender and Equality (Hardcover)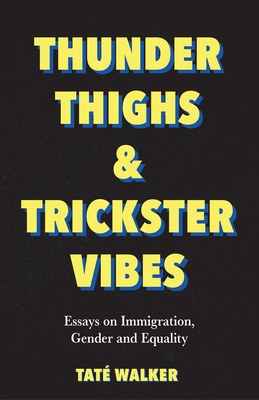 Description
---
Essays from a Powerful New Native Voice
Surviving and thriving: Navigating relationships is difficult for anyone, but even more complicated for Indigenous folx overcoming centuries of trauma, ongoing systemic disenfranchisement, marginalization, and oppression. That they're still here is a testament to their innate resilience--but survival is an exhausting state to inhabit.
Native American traditions through a feminist lens: This book aims to rehome "traditional" Indigenous relationships into a modern framework, with a roadmap to radical love through pre-wave and intersectional feminist theories. Moving from survivance to thrivance is possible when fortified with ancestral knowledge, modern community-building, and the will of the next generations. This book discusses how traditional views of relationships were lost, what must happen to revive them today, and how to ceremonially engage others for future generations.
Strengthening indigenous interconnectedness: There's an oft-quoted Lakota philosophy--"Mitakuye Oyasin"--which roughly translates to "all my relations." The uneducated user (read: New Ager) invokes the Lakota proverb, which recognizes one's place in life and time, without understanding exactly what that means. But "Mitakuye Oyasin" is more than just a cool-sounding refrain--if we can incorporate its traditional significance into our daily life, we can begin to heal and strengthen all interconnections.
Healing communities: Reclaiming the bond to our land, language, ourselves, and each other is at the heart of Thunder Thighs & Trickster Vibes--it discusses what it means to truly decolonize from toxic settler syndrome and the taking of all things Indigenous. Readers will understand the healing that is possible when a community faces the world with strength and unity.
Fans of Heavy by Kiese Laymon, Bad Feminist by Roxane Gay, and #NotYourPrincess by Lisa Charleyboy and Mary Beth Leatherdale, you will love Thunder Thighs & Trickster Vibes.