Don't Worry, Life Is Easy (Hardcover)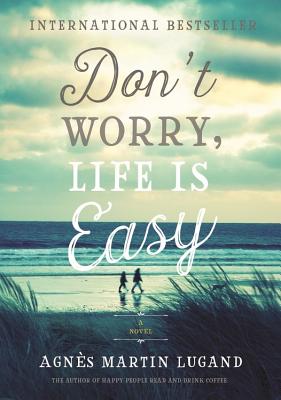 Description
---
The much-anticipated, bestselling sequel to the international phenomenon Happy People Read and Drink Coffee.

Diane needs to start over again. After returning from Ireland and turning the page on her stormy relationship with Edward, the brooding Irish photographer, she is determined to rebuild her life in Paris with help from her best friend Féx. She focuses solely on getting her literary caféack on track-until she meets Olivier.

He is kind and thoughtful, and she may have a future with him...until she stumbles across her former love at a photography exhibit. What is Edward doing in Paris? Why didn't he reach out? Faced with a hail of questions, her old flame remains cold and unresponsive. Apparently, he, too, has moved on.

In order to put the past behind her, Diane must go back over her tracks. Ireland saved her before. Can she get answers there and find peace again?
About the Author
---
AgnÿMartin-Lugand is the author of Happy People Read and Drink Coffee (Les gens heureux lisent et boivent du café/i>, and Happiness Slips Through My Fingers (Entre mes mains le bonheur se faufile). She lives in Paris, France.

Sandra Smith is a critically acclaimed translator of French literature.
Praise For…
---
Praise for the series:

"Profoundly moving and expertly told, Happy People confronts life's most nightmarish tragedy with an unblinking examination. Diane's journey to find meaning again is at once charming and heartbreaking, and I found myself pulling for her to seek out her next experience of love. The wisdom and magic in these pages will linger long after the book is closed."
--- New York Times bestselling author Susan Wiggs

"A heartbreaking story of love and loss that will twist readers up in knots. . . Essential for any foreign literature or women's fiction collection."
--- Library Journal

"Martin-Lugand's sparse but emotionally forceful style... catches the sweeter moments between two people embittered by loss."

--- Kirkus Reviews

"The energy that Agnès Martin-Lugand is able to convey with this storm is enormous. This is one roller-coaster of a book, but I loved every moment of it. . . Anyone who has ever experienced a feeling of any kind, ever, will enjoy this novel."

--- San Francisco Book Review—-

Praise for Don't Worry, Life is Easy:
—-

"...[T]his sequel is just as good as the first novel. Agnès succeeded in reducing me to a sobbing mess more than once. She writes so beautifully; simply said but so impactful... life can be so very painful, unfair, and dark. But if we are brave enough, it can also be pretty wonderful, too."

—Bookalicious Babe, -

"The characters are well developed... the relationships are... done so well[,] you might cry by the end of the book. (I admit to nothing.) If you've ever faced a loss in your life and then been given the chance to fill that gap with something new, you will get this book."
—Ronovan Writes, -

"A deftly written and thoroughly absorbing read... an original and entertaining novel."

—Midwest Book Review, -