The Best American Nonrequired Reading 2002 (The Best American Series ®) (Paperback)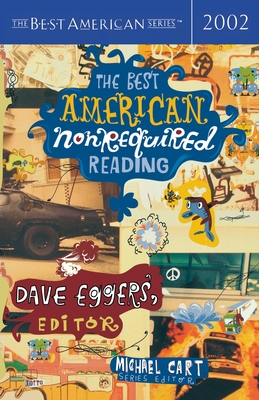 $17.95
Usually Ships in 1-2 Weeks
Description
---
Since its inception in 1915, the Best American series has become the premier annual showcase for the country's finest short fiction and nonfiction. For each volume, a series editor reads pieces from hundreds of periodicals, then selects between fifty and a hundred outstanding works. That selection is pared down to the twenty or so very best pieces by a guest editor who is widely recognized as a leading writer in his or her field. This unique system has helped make the Best American series the most respected -- and most popular -- of its kind.

The Best American Nonrequired Reading 2002 is a selection for young people of the best literature from mainstream and alternative American periodicals: from the New Yorker, Jane, Rolling Stone, Zyzzyva, Vibe, The Onion, Spin, Epoch, Time, Little Engines, Modern Humorist, Esquire, and more. Dave Eggers has chosen the highlights of 2001 for this genre-busting collection that includes new fiction, essays, satire, journalism -- and much more. From Eric Schlosser on french fries to Elizabeth McKenzie on awful family to Seaton Smith on how to "jive" with your teen, The Best American Nonrequried Reading 2002 is the first and the best.
About the Author
---
DAVE EGGERS is the editor of McSweeney's and a cofounder of 826 National, a network of nonprofit writing and tutoring centers for youth, located in seven cities across the United States. He is the author of four books, including What Is the What and How We Are Hungry.
Praise For…
---
"[T]he most grown-up young adult fiction excerpts ever compiled." --Allegra Muzzillo, Black Book

"If only this book were mandatory in schools!" --Seventeen

"...[A]n impressive job of collecting..." --Rob Walker The Wall Street Journal