Ladysitting: My Year with Nana at the End of Her Century (Paperback)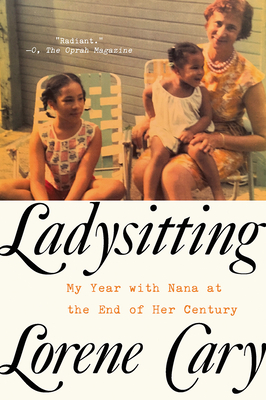 $15.95
Usually Ships in 1-2 Weeks
Description
---
"Radiant." —O, The Oprah Magazine
From cherished memories of childhood weekends with Nana to the reality of the year she spent "ladysitting," Lorene Cary journeys through stories of their time together and five generations of their African American family. Weaving a narrative of her complicated relationship with Nana—a fiercely independent and often stubborn woman whose family fled the Jim Crow South and who managed her own business until 100—Cary captures the ruptures, love, and forgiveness that can occur in family as she bears witness to her grandmother's vibrant life.
About the Author
---
Lorene Cary is author of the memoirs Ladysitting and Black Ice, three novels, and a book for young readers. She teaches at University of Pennsylvania and has written a one-act opera of Ladysitting and a play, My General Tubman. She lives in Philadelphia.
Praise For…
---
A thoroughly engaging memoir.… Cary invites readers into a complex extended family.… A distinctly American story.
— Martha Anne Toll

Ladysitting is boldly literate and a brilliant work of art.… A lyrical odyssey of the multiply-descended and cross-generational heritage of black diaspora in a strange land.

— Houston Baker, Distinguished University Professor, Vanderbilt University

A dive into Cary's own history.… What resonates loudest in Ladysitting, however, is the love that Cary gives back to her grandmother.

— Dan Marshall

Rain dances nourishment

from the soil

Tears waltz love

from the heart

Sun dances a boogie

woogie while

Lorene Cary is Ladysitting

with her Grandmother

Question:

Who brings the beer?

— Nikki Giovanni

Cary's chronicle of this centenarian (+1) is written with candor, warmth, and love. The final chapters are critical reading for anyone with an aging loved one at the end of their life.
— Betsy Lerner, author of The Bridge Ladies

[Cary] movingly portrays what it's like to care for a loved one.
— Elizabeth Sile

Open the cover of Ladysitting, and you're immediately yanked into a story with an ending you already know.… One of the more deftly-written, truthful accounts in this genre.

— Terri Schlichenmeyer

A heartfelt, multifaceted story.… This reflective memoir steeped in love and forgiveness explores a devoted granddaughter's perceptions about her grandmother.

With admiration, triumph, and love, Cary captures the universal experience of close family loss.

A candid, sensitive memoir.… Thoughtful reflections on pain, love, and family.