My War Gone By, I Miss It So (Paperback)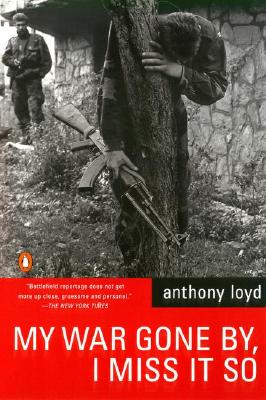 Description
---
Nothing can prepare you for Anthony Loyd's portrait of war. It is the story of the unspeakable terror and the visceral, ecstatic thrill of combat, and the lives and dreams laid to waste by the bloodiest conflict that Europe has witnessed since the Second World War.
Born into a distinguished military family, Loyd was raised on the stories of his ancestors' exploits and grew up fascinated with war. Unsatisfied by a brief career in the British Army, he set out for the killing fields in Bosnia. It was there--in the midst of the roar of battle and the life-and-death struggle among the Serbs, Croatians, and Bosnian Muslims--that he would discover humanity at its worst and best. Profoundly shocking, poetic, and ultimately redemptive, this is an uncompromising look at the brutality of war and its terrifyingly seductive power.
About the Author
---
Anthony Loyd served as a platoon commander in the British army for operations in Northern Ireland and the Persian Gulf before going to work in Bosnia. He is now a special correspondent for The Times of London, for which he has covered seven other wars, including the conflicts in Chechnya, Afghanistan, Sierra Leone, and Kosovo.
Praise For…
---
"A fascinating look at war from a front-row seat." --Denver Rocky Mountain News

"Loyd's fragmentary reports morph into first-rate war correspondence from Bosnia that places him into the great tradition of Hemingway, Caputo, and Michael Herr." --Boston Globe

"An extraordinary evocation of the war in Bosnia, that is also a painful personal story . . . idiosyncratic, unsparingly graphic, refreshingly critical, and beautifully written." --Kirkus Reviews (starred review)

"What a writer, what a vision. It's hard to read and not be impressed." --San Diego Union Tribune

"Battlefield reportage does not get more up close, gruesome and personal." --The New York Times